Blue Mountain Library Events
BMU Librarian Kate Davie has a handful of special things going on in the library, including Spooky Stories, the Golden Dome Book Award, and the Name a Plow contest.
Spooky Stories
Mrs. Davie has a whole new book section dedicated to autumn's spooky season. She stated, "I have lots of folks coming in for scary books and ghost stories." She has created displays throughout the library to meet this need.
The Golden Dome Book Award
"Th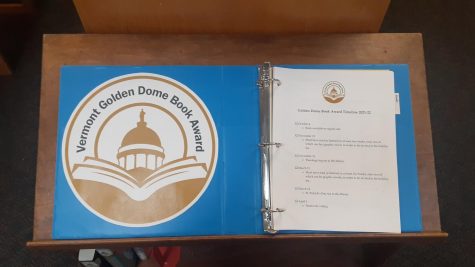 e 4th through 8th graders [have] just started the Golden Dome Book Award reading," Mrs. Davie reported.  The award was created to honor excellence in children's literature. Since 1957, each year students read up to 25 books. They choose from a list and then vote on their favorites.
The list is generated by a committee of about seven librarians, book sellers, and teachers who read between 350-450 books every year. Mrs. Davie used to be part of the committee and described her experience as "really fun."  The committee looks for books that are well-written and that address issues of interest to the students.
If students read at least two books from the list by November 12th, they will then be invited to the library for a Holiday Tea, to be held on November 15.  But if they read five books from the list by April, they get to vote and become part of the state award process.
Name a Plow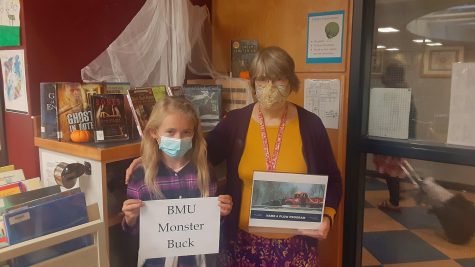 Another activity has been the Name a Plow contest, which was created by the Vermont Agency of Transportation (AOT) to have Vermont elementary schools name the State's big orange snowplows.  "This is a wonderful opportunity for students to work together to name a snowplow that will keep the roads around their school safe," said Secretary of Education Dan French. "This is a great way for students to learn about the important work that goes into making Vermont a wonderful place to live, work, and play in the winter months. I urge Vermont schools to participate in the Name a Plow program."
Students turned in their ideas and then K-4th graders voted for their favorite name.  On October 21st, Mrs. Davie announced our lucky winner: Aubree Franks-Lee from the 4th grade. Aubree chose to name the snowplow "BMU Monster Buck."