Pen Pals from Mexico
This year's Spanish II students wrote letters in Spanish to students in Mexico.  This assignment was the brainchild of this year's Spanish II teacher Mrs. French and former BMU principal, Carol Curtis.  Mrs. French explained, "We're not able to travel right now or plan any trips. So I want to make sure that Blue Mountain is continuing with learning about other cultures.  Carol Curtis was willing to help with this and I thought it would be a great way to get to know students that live in another country and start to learn about each other."
The students in Spanish II were excited about "meeting" and learning about their pen pals. We asked a couple of students in Spanish II about what they thought of the Pen Pals.  Felicity Sulham said,  "I think it is really cool to talk to another student in a different country because it expands my vocabulary in Spanish. I think it is going to be cool to learn about another person's life in a different country to see how different they are." Cedric Schaefer had this to say: "I think they are cool. They helped give a little more perspective about what it is like to live and learn there compared to here." Karli Blood mentioned, "I think that this is a really cool experience because we are able to get a look into the lives of students in Mexico. We can see that our lives are very similar in many ways, while also having very different cultural norms. This is a great way for both classes to work on the language they are studying, while making friends in a different country."
The students that sent the letters live in a village called San Juan Cosala. Here are a couple letters from the students…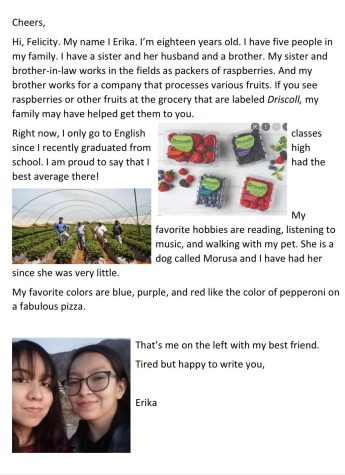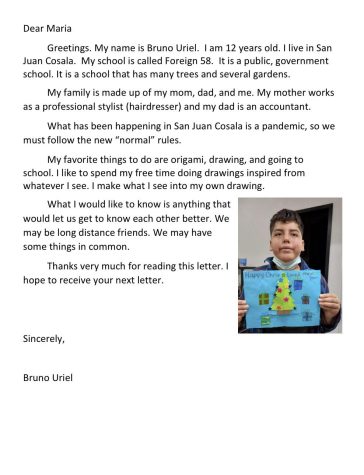 After reading the letters, some things we learned about the village are:
Students k-9th grade wear uniforms
Each school uses different colored uniforms
In September, while celebrating Independence Day, all kids march through the village.
The "mountains" behind the village are about 5000 feet above sea level and would be considered hills where we are from.
The public schools in San Juan Cosala do not have English classes. Its not that they don't want the classes; rather, there are very few English speaking teachers that haven't already been hired by private schools and high schools. 7th-9th graders have an English teacher, but one teacher has to teach about 600 students, so the amount of class time they have is very little.