Long Road Back to the "Aud" for the Bucks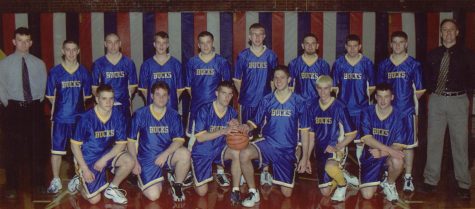 This Saturday, the Bucks Boys Varsity Basketball team is heading to the "Aud" for the second time this season with a chance of winning a state title. It will be the first time the boys have been to the championship game in 21 years. The team hopes that it will also be the first time they've won it in just as many.
In that 2001 contest, the high scorer of the game was Jon Murray with 28 points. In an interview with Murray, he describes the 2001 state champs: "We all knew our roles and always tried to make the right play." When asked about the obstacles they had during the season he replied that the major obstacle was "Ourselves, we were the only ones standing in our way. Once we got out of our own way, there was nothing that could stop us."
According to Murray, a big key to the 2001 team's success was physicality. He explained, "We were probably the most physical team around. We were never afraid to run through screens, hoping maybe next time they wouldn't set them. That being said, we were also the first guys to pick them back up."
When asked if he had any advice for this year's team he stated, "Leave it all out on the floor. Play like there is no tomorrow. Make sure you outwork the other team every step of the way. When Sunday comes, you'll either be a champion or you won't."
This Saturday, the boys will take on the 3rd seeded White River Valley Wildcats.  This will be the second championship on the line for these two clubs as both were in the 2021 baseball championship.