Robotics- From Club to Class
Mr. Munson, BMU's Robotics teacher, discussed the differences between this year's class and those of previous years', what they do in class, and what he hopes for the future. Before this year, BMU's Robotics Team was a club that would meet after school and on weekends, but now it's a high school class that meets every other day. Having the club after school made it difficult for students to attend. They often had work, sports, or transportation issues, so this class makes it much easier for students to participate.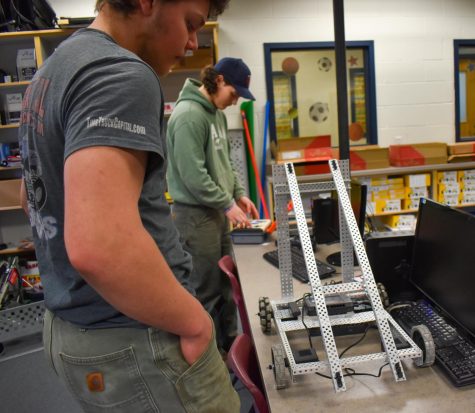 When Robotics was a club they went to competitions with other schools in New England, but the competitions have been canceled for two years due to COVID. Munson says the competitions are slowly coming back, and he hopes one day the class can start competing.
Another change to the class is the new robot. For about five years, students used the V4 robots from VEX, but this year they get to use the V5. A student in the class, Jeremiah Burnett, says the V5 robot is easier to program than the V4. Mr. Munson has 14 students and 10 V5 kits; students pair up, so everyone gets to use and work on the robots at the same time. 
However, before they even use the V5, students build what they call "Claw Bots." First,  they build the basic version. Next, builders modify the bots to be able to solve challenges. Finally, the bots compete in an in-class competition they call "Swept Away."  A ring is filled with little footballs and soccer balls that the robots have to pick up and make goals with.
 When talking with Burnett, he says, " "Robotics. It's a good thing to learn, because it helps you understand technology nowadays, but you have to put your mind into it."