Wolves Hand Bucks their First Loss of the Season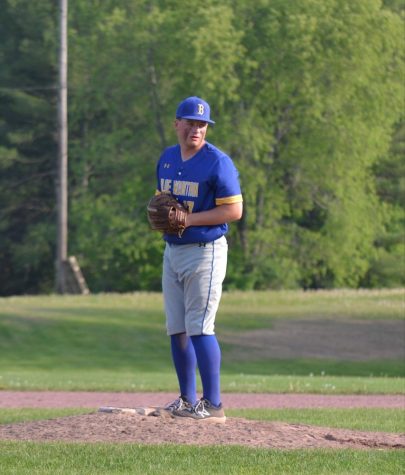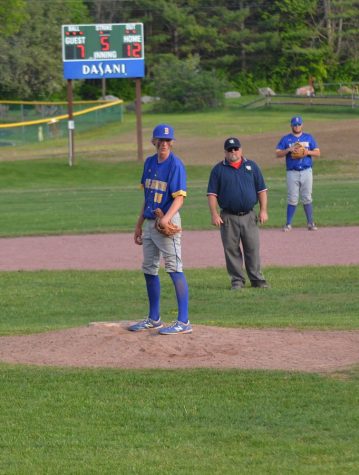 Morristown VT- Blue Mountain was bested by Peoples Academy ending their undefeated season with a 17-7 loss on Tuesday, May 23rd. The Wolves started their senior ace Ben Alekson, who would allow seven runs in five innings.  Those seven runs came by way of six hits and two walks.  The senior hurler struck out 14, ultimately earning the win.
Blue Mountain sent Ricky Fennimore to the mound; he would allow nine runs on 11 hits, with two walks and four strikeouts . Fennimore lasted until the fourth and was substituted by sophomore Brody Kingsbury who closed out the inning with three hits one strikeout and one walk granting the Wolves three more runs. In the bottom of the fifth, sophomore Kris Fennimore let in four runs with no hits three walks and one strikeout. Blue Mountain brought in junior Keegan Frigon; he allowed two hits and one run before Peoples Academy was able to pile on enough runs to mercy rule Blue Mountain.
For Peoples Academy C. Strong lead with four hits and three runs and five RBIs, Chandelier Follensbee also had an exceptional day at the plate going three for three with four runs. Ben Alekson, Derek Baxter and Jack Lund all chipped in with two hits a piece.
While Peoples Academy has kept runners off the bases all season with Ben Alekson's quality pitching, the Bucks hit the ball well. Kason Blood and Evan Dennis both hit three for three with back to back home runs in the third inning. Kris Fennimore also contributed with a hit .
Blue Mountain Captain Ricky Fennimore stated "I thought it was an offensively well played game and Peoples is a quality team that hit the ball well."
After this game The Bucks record changed to 15-1 and will secure the number one seed going into playoffs. The Wolves record improved to 13-2 going into playoffs.