New 2nd Grade Teacher at Blue Mountain: Ms. Elizabeth Baillargeon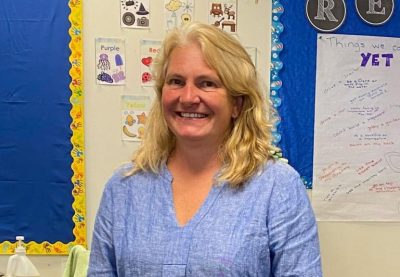 Ms. Elizabeth (Liz) Baillargeon loves teaching. Her passion started in high school when she was coaching elementary school soccer. Once her daughter came along, she ditched her waitress job, went back to school, and became a teacher. She has now been a teacher for 20 years, and BMU is the 3rd school she's taught at.
Ms. Baillargeon says, " I absolutely love it here. The community is amazing. The kids are amazing. The teachers are amazing.  I just absolutely love it here." She strives to connect with all the students, and to make sure they understand the material by doing little check-ins. One method is the exit ticket, through which she can see how much information the children retained after a lesson. She says she does a lot of hands- on activities to keep the children engaged and excited to learn. Sometimes in the classroom, students learn at different paces, and Ms. Baillargeon does her best to make sure no one is bored or behind. She has extra and alternative work for everyone that focuses on their ability levels and interests.
Although Ms. Baillargeon adores teaching so much, she has other unusual things going on in her life. At the moment she is renovating a 1840s farmhouse. The farmhouse sits on 45 acres of land, and is only two miles away, which she walks every morning to school! Since she is new around this area, her goals at the moment are to be more connected to the community, and make an impact.